No eviction for the Kalenderpanden in Amsterdam
---
NO EVICTION FOR THE "KALENDERPANDEN" IN AMSTERDAM!
Eviction possible from 3rd October
WEEKEND OF ACTION: Saturday 30th September and Sunday 1st October
DEMONSTRATION: Sunday 1st October, 2pm, Dam Square, Amsterdam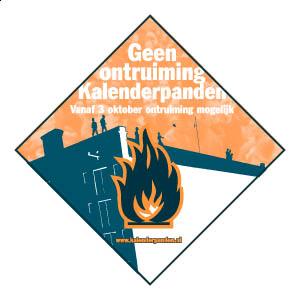 Luxury apartments in the "Kalenderpanden", whatever next?! In these squatted warehouses in Amsterdam you can find concerts, performances, food, an infocafe and giveaway shop, information evenings, parties and many other activities - something happening almost every day. But if the city council get their way, in the very near future there will be, instead of all these cultural activities, 47 luxury apartments with private parking spaces...
From 3rd October, the current users of the Kalenderpanden can be evicted by the police. We refuse to leave because Kalenderpanden is not only a non-commercial venue, but also a protest against the direction Amsterdam is developing in.
The form of the 'new Amsterdam' is becoming clearer and clearer: a city where the centre is affordable only for the rich, with lower-income people, immigrants and students pushed out to deprived neighbourhoods. People living in houseboats, artists and other non-conformists are dumped out in industrial areas.
All this to make space for the rising population of bourgoise hard-working yuppies. Their streets are kept clean by city guards, chewing-gum cleaners and other underpaid workers – all to present an appealing investment climate for big companies like Albert Heijn, Heineken and McDonalds. The middle-class consumer lifestyle is selling itself well! Never before has Amsterdam been so boring and never before has the city reaped so many hundreds of millions of guilders in profit and rising property prices.
And as if all this isn't enough, they now want to build millionaires' apartments in the Kalenderpanden, because they say there is a 'need' for ludicrously expensive living spaces. Who came up with that? What sick mind thinks seriously that a rich citizen is some kind of "ubermensch" that can solve all the problems of our city?
The Kalenderpanden has had an important public function for the last 4 years: everything has deliberately been made affordable for everybody, and initiatives that haven't yet really 'made it', or maybe never will, are all given a place. This is how it must stay. Over the last few years there has been an endless list of squats evicted in Amsterdam. This must end.
The owner of the Kalenderpanden is the city of Amsterdam. They have the choice how it is used. Choosing to evict is therefore a political choice: a choice for high incomes, privatisation, polarisation and stamping down on culture.
Our demands are therefore: NO EVICTION OF THE KALENDERPANDEN, NO RICH-ONLY NEIGHBOURHOODS!
Kalenderpanden Entrepotdok 93-98 1018 AD Amsterdam tel. 0031-(0)20 4206645 entrepot@dds.nl www.kalenderpanden.nl
[squat!net]
---