2500 people show support for the Kalenderpanden
---
Today the action weekend against the evictions was ended with a big demonstration. About 2500 people showed up at Dam square in the rain. This were 1000 people more than a previous demonstration in january this year.

Since there was no police intimidation the demonstration went through Amsterdam without problems. Just about 30 cops accompanied the demonstration and four busses of riot cops were guarding the major's house.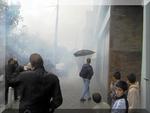 Some paintbombs and smokebombs were used at the headquarters of police but in general it was a peacefull demonstration. Many of the banners spoke out against the big aim of council politics: Money, money and more money. The people who actually live and work in Amsterdam are forgotten when they can't pay one million guilders for a luxury apartment.
At this moment the Kalenderpanden have got nothing to loose anymore. The council spoke out in favour for an eviction. Herewith they forgot former promisses to set up housing and workingspace replacing another squat which was evicted in 1989 and the affordable housing which was supposed to be build in the Kalenderpanden.
The eviction of the 3rd of october is postponed.
[squat!net]
---